The Panda Cubs of Chengdu
(continued)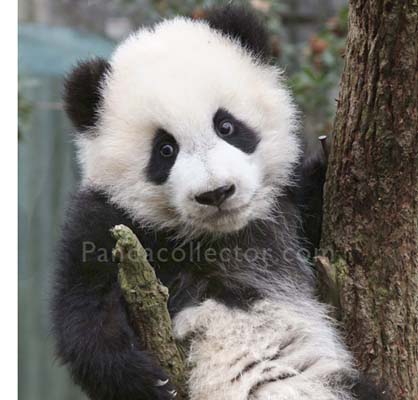 A month after birth Giant Panda cubs start to show their famous black and white color patterns. They open their eyes partially, too. In 30 more days their vision will be as good as it will get (which is weak). At three months of age they can begin to walk and at four months they are fully active. Some cubs may show a pattern of gray and white instead of black and white. These gray areas will darken and become black in the months ahead.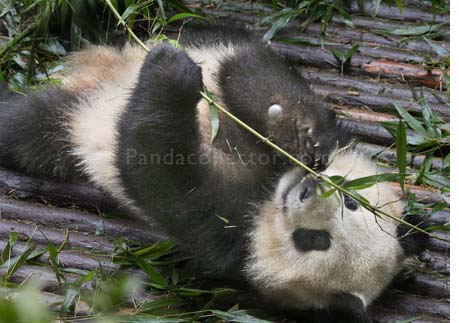 Szichuan Province, the home of the Chengdu Research Base of Giant Panda Breeding, is part of the historic range of the Giant Panda. This range overlays what has been called, "The Sea of Bamboo," a vast area of China once covered by bamboo trees. The stability of this habitat has been important for the Panda's survival. In fact, the bamboo represents resilience in Chinese culture.
The bamboo forest provides the Giant Panda with both food and cover from predators and intruders. While it goes about its daily business the bear's keen senses of hearing and smell keep it aware of everything nearby. In this sheltered habitat the animals tranquilly passed through the ages, out of sight and out of mind. So few people ever glimpsed them that there are practically no myths or folk-lore about Giant Pandas.
It's unclear when the Giant Panda first attracted attention. There is a possible reference to it during the T'ang Dynasty. A Japanese record says that in 685 the Emperor of China sent as a gift to the Emperor of Japan, two living "white bears" plus the pelts of seventy others. This probably refers to Pandas, but just might be Polar Bears. That these gifts were considered valuable enough to be imperial gifts suggests that "white bears" were rarely seen even back then.
When a great dictionary on the uses of animals in Chinese medicine was published in 1597 the Panda was not listed at all. That is how things rested until a missionary with a passion for natural history named Père (father) David encountered the remains of a Giant Panda in 1868. Sadly, the first reponse in the West to the news of the Pandas existence was to hunt it. (Continued - more photos + story)
---
The Gold and Silver Panda Coin Buyer's Guide
Second Edition
Special Offer
for China Pricepedia Subscribers Only
Subscribers to China Pricepedia may order the Gold and Silver Panda Coin Buyers Guide Second Edition for $48.88. This is a $5 savings off of the regular price. Delivery is expected in October 2013.
FREE USA SHIPPING. Shipping is $5.50 to Canada and $17.00 to overseas.
Pay securely. You are protected with
Purchase Protection from PayPal.
---
All Pandacolle
ctor.com coins are guaranteed genuine. Coins include a 30-day (from the time you receive the coin) money-back return policy. Coin(s) must be returned in same condition as when sent. Coins are not s

t
ored on premises.
---