The Panda Cubs of Chengdu
(continued)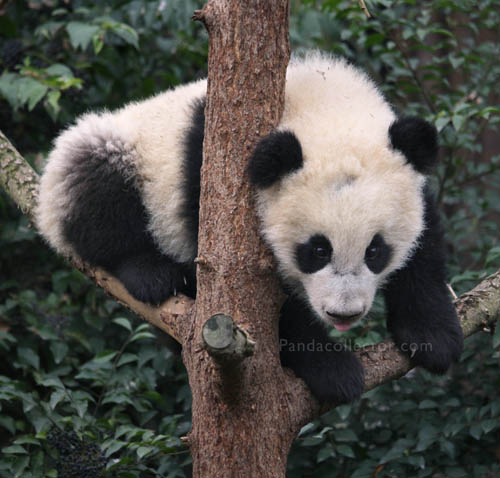 However, few of the elusive animals were found by trophy-hunters. In the 1930's the focus began to shift to the capture of live Pandas. The first living Panda to be seen outside China was an orphaned baby. It was named Su-Lin by Ruth Harkness, the woman who brought it out via Chengdu and Shanghai. By the time Su-Lin reached Shanghai a media frenzy has started. When Su-Lin (who turned out to be male) reached San Francisco it was said that in the States there had not been so much excitement about a foreign celebrity since George Bernard Shaw's visit.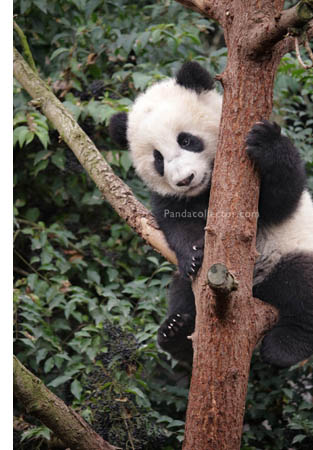 In the last half century human economic development has reduced the Sea of Bamboo to scattered ponds. The forest no longer provides sufficient range for Pandas to survive as a species. There are estimates that as few as 1,500 Giant Pandas are left in the wild. The animal's natural slow rate of reproduction combined with habitat loss may doom the species to extinction, but China has mounted a rescue effort.
Large areas of the remaining bamboo forest are now protected. Breeding centers like the Chengdu Research Base of Giant Panda Breeding make every effort to perpetuate the species that China calls a national treasure.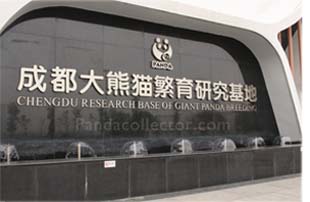 It's about a half hour taxi ride from the Holiday Inn Hotel in Chengdu to the Chengdu Research Base of Giant Panda Breeding, or what everyone in town calls the "Panda Base." The Panda Base makes no pretense of its main attraction: reminders of Pandas are everywhere. Practically the first thing you see is a large sculpture of a Panda mother with her baby. After that there are paved trails and roads. They lead uphill past museums and through stands of bamboo forest.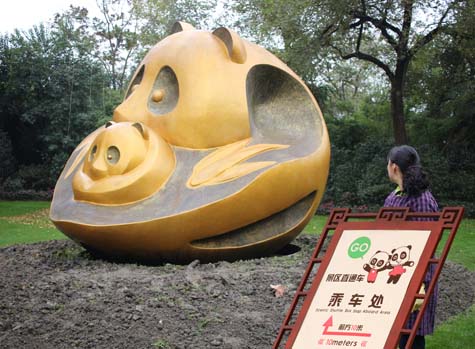 A large pond is named "Swan Lake" and it is home to black swans. In economics a "Black Swan" is an event deemed so far-fetched that no one prepares for it. I chuckle. This somehow seems fitting for a park dedicated to animals that the world knew nothing about for thousands of years.
The park is large. From the entrance it is about a kilometer to the top and most of that is uphill. There is a shuttle bus, but I prefer to walk along the Base's quiet paths.
The Panda Base is also home to Red Pandas. These smaller, raccoon-like, tree-climbing animals are unrelated to their more popular namesake, but they too are endangered. Why are they called Pandas, too? Because they were discovered first. When the black and white animal was found half a century later the Panda name was already taken. So the new animal was called the Giant Panda. (Continued - more photos + story)
---
The Gold and Silver Panda Coin Buyer's Guide
Second Edition
Special Offer
for China Pricepedia Subscribers Only
Subscribers to China Pricepedia may order the Gold and Silver Panda Coin Buyers Guide Second Edition for $48.88. This is a $5 savings off of the regular price. Delivery is expected in October 2013.
FREE USA SHIPPING. Shipping is $5.50 to Canada and $17.00 to overseas.
Pay securely. You are protected with
Purchase Protection from PayPal.
---
All Pandacolle
ctor.com coins are guaranteed genuine. Coins include a 30-day (from the time you receive the coin) money-back return policy. Coin(s) must be returned in same condition as when sent. Coins are not s

t
ored on premises.
---