Welcome to China Pricepedia Price Guide

---

Need Real Chinese Coin Prices? Get China Pricepedia!
Are you interested in Pandas, Lunars, Unicorns, or other modern Chinese coins? Since 2010 China Pricepedia is the top source for prices of these popular coins. That includes prices from China, the USA, Europe, and all around the globe.
China Pricepedia is the trusted source for Panda prices.
China Pricepedia is the trusted source for prices of modern Chinese coins.
China Pricepedia is the trusted source for what is happening in the Chinese coin markets.
China Pricepedia is where you find exclusive coverage of the hottest coins, markets and coin shows.
China Pricepedia is information from the coin industry insiders who know the Chinese coin markets best.
China Pricepedia is published 12 times per year.
Knowledge is power!
Some price guides use values supplied to them by coin dealers. Why is that important to you? A dealer's main interest is to buy low and sell high.
China Pricepedia is different. It isn't owned or run by coin dealers. So it digs into the market to provide you with reliable, independent prices based on actual coin and sales.
Every month China Pricepedia also has exclusive articles that fill you in on what's hot and what's not. "You are doing an incredible job," writes a subscriber.

September 2016 China Pricepedia Highlights: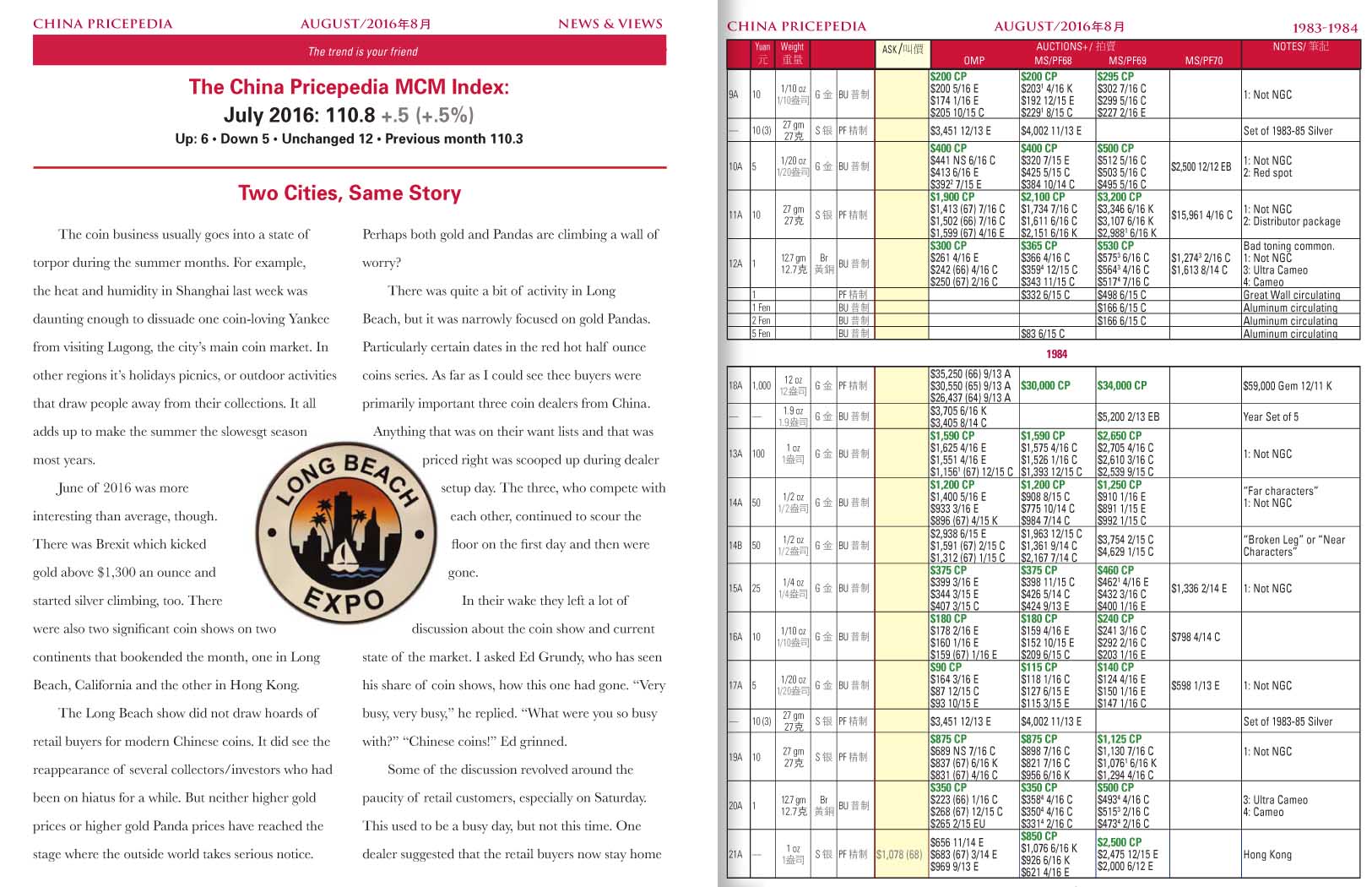 138 pages of original articles, prices, and information in the September 2016 issue!

Part 1
Trends in Chinese Coins
Dealer Interviews
Panda Coin Prices
Long Beach Coin Show

Part 2
Prices for:


.....

Lunar Calendar coins • Unicorns


.....

Dragon & Phoenix • Olympics


.....

Peacocks • Inventions & Discoveries


.....

Guan Yin • Historical Figures + much more

China and the USA/EU Prices •
All metals: Gold, Silver, Platinum and more

Stop guessing what coins are really worth. Find out today why so many collectors and dealers depend on China Pricepedia.
Special Offer!
Subscribe to China Pricepedia at only $8.88* for six months. Then get a .999 pure silver 2016 Valentine Bamboo Panda graded by NGC. These include a aspecial new NGC label hand-signed by Peter Anthony.


Subscribe Now to China Pricepedia
Just $8.88* for First 6 months
Then get:
One NGC PF-69 silver Valentine Bamboo Panda for $158.88, or
One NGC PF-70 silver Valentine Bamboo Panda for $275.00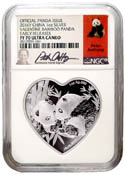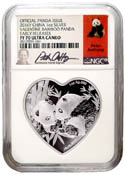 China Pricepedia Subscribers Only. Please subscribe first. Limit two graded Pandas per subscriber.
For Proof-69 Valentine Bamboo Panda
For Proof-70 Valentine Bamboo Panda
---
*New subscribers only, please. $17.22 for each three months after first six months. You may cancel at any time. One trial subscription per person per year. Current subscribers may order up to two NGC-graded VAlentine Bamboo Pandas. Free shipping only to addresses within the USA.
Offers subject to availability and may be changed or ended at any time withouut notice.

Questions about the China Pricepedia? Please email to: info@pandacollector.com.