••



---
2011 Silver Panda Varieties
Silver Panda varieties have a long history that starts in 1990, with Large and Small Date versions, and continues through 2010 with its date varieties. Partly because several of the varieties from the 90's have been found to be scarce or rare – and now sell for significant premiums above their more common peers – many numismatists take interest in Panda varieties. Pandacollector.com has identified a pair of distinct 2011 Panda varieties.
The photos show the differences in eye and ear shapes on the Panda cub and the differences in nose details on the adult. These differences are easily visible to the eye and are significant enough that I expect the varieties to be officially recognized. So far they are being called Large Eye and Small Eye. Examples have been submitted to NGC for grading and variety designation.

Click to enlarge


2010 Small and Large Date Silver Pandas
---
2010 Silver Panda Varieties

Large and Small Date varieties among 2010 10 Yuan silver Pandas have been spotted. The Large Dates are distinguished by larger numerals and larger lettering that is placed closer to the coin rim than it is on the Small Dates. Other differences have also been reported. The Large Dates were reportedly struck at the Shenyang Mint in Northern China while the Small Dates come from the Shenzhen GuoBao Mint facility. It is uncertain at the present time which, if either, is the scarcer variety. Some Panda date varieties from prior years are accorded large premiums by collectors. (hat tip to Chinese Coin Forum)
Click to enlarge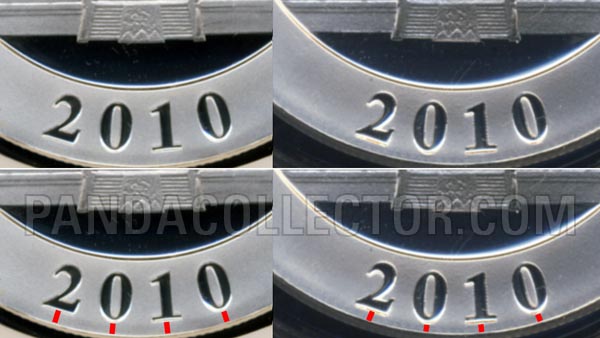 2010 Small and Large Date Silver Pandas
Red lines added to highlight distance.
---
2003 Gold Large and Small Dates Found
A pair of 2003 1 oz. gold Pandas struck at two different China Mint facilities (Shenyang and Shanghai) shows that they have different size dates. The Shanghai date is slightly larger than the Shenyang. The numeral 2 also varies in shape.
Another difference between the two varieties is luster; the Shanghai product is far brighter than the coin from Northern China. When in doubt about which variety you are looking at check the shape of the twos; it may be the clearest way to tell the varieties apart. Click photo to see a larger image.


Small Date mmmmmmmmmmmLarge Date

---